Make Money Online – First Steps on How to Become a Successful Network Marketer
Before you start to make money online with multi-level marketing or network marketing, you need to know what they are.  Check out this blogpost for an explanation.
Ok, now that you know what MLM is, BELOW ARE THE FIRST STEPS YOU NEED TO TAKE to be a successful network marketer.
Step 1. Decide what network marketing company you want to work with.
There are hundreds of choices. Wikipedia lists some of the top ones here:
You can also check out our post listing the top direct sales companies by revenue.
We are also in the process of reviewing some of the popular companies, check back often to see what's new.
How do you pick which company to work with?
• Start thinking about what you are passionate about.
• What gets you up in the morning?
• What product would you use even if you weren't selling it?
• Is the product something that will be popular over time and not just short term?
• Is the company financially viable?
If you pick something you love, you'll never "work" another day of your life. Do your research and take your time, this is an important decision.
If you want to make money online before you pick a company, you can start with affiliate marketing.
There are a lot of products you can sell as an affiliate marketer. One of our favorites is My Lead System Pro (MLSP), you get the benefit of lots of training and a blogging platform while still earning affiliate commissions by marketing to others.
Learn more about affiliate marketing with this blogpost.
Step 2. Decide if you want to operate as a person (sole proprietor) or if you want to create a company (corporation or limited liability company) to protect your assets.
Most people don't think about this step, but in today's litigious society, it can be a critical step.
There are lots of companies that will help you set up an entity, here are a couple:
https://www.delawareinc.com
http://www.legalzoom.com
Step 3. Unless your brand is you, pick a name for your company.
This goes hand in hand with Step 4, you don't want to pick a name if you can't get a website with that name.
The best advice is to use your personal name if that's possible, because nobody can take away your name.  If you combine your name with your MLM company and the MLM company goes under, you have to start over branding yourself with another company.
But, you may need to keep your name out of it because you work for a company that doesn't allow outside business interests. If so, no worries, just pick a business name to work under.
When you pick a name for your business, if it gives people a good idea of what you are selling, it will be easier to market your product.
Step 4. Get a website.
What if you have a common name and can't get the website? In that case, try adding your middle name or middle initial, or use something like "Work with John Smith", "Get Fit with John Smith", "John Smith Online" or whatever works with what you are selling.
If you want to see if a website name is available, my go to site is always GoDaddy.  They can also set you up with an email that matches the name of your website.
Step 5. Get a Picture or Logo.
If you are branding you, get a professional picture of yourself.
If you are branding a company, consider getting a professionally done logo. You can get one cheap at Fiverr.com.
Step 6. Start a blog.
This should tie into whatever company you have decided to market.
If you pick a health and wellness company, your blog could be about diet and exercise. If you pick a travel company, your blog could be about best vacation spots. And so on.
Spend some time picking a narrow niche. If the subject of your blog is too broad, it won't appeal to anyone. If you are marketing to everyone, you are marketing to no one.
There are a lot of platforms you can use to host your blog. Two of the top free sites are WordPress.com or Blogger.com (Google's platform), but if you want to make money with your blog, those are not the best options. One option is WordPress.org, another is to use MLSP (you get your blog along with lots of plugins without additional charges and thousands of hours of training in how to blog, how to market on social media, etc. [see our blogpost on MLSP here].
Step 7. Create social media accounts.
You should not use your personal accounts, keep your personal accounts personal. These social media accounts should be set up for your business.
Use your picture or logo to brand yourself.
No personal pictures of you drinking beer with your buddies (unless your business is beer).
Step 8. Learn, learn, learn.
Invest in yourself and your future.
If you have no money, access as much free training as you can (like here on our site). There are some MLM companies that require no or minimal up front costs (like Le-vel).
Give up one cup of coffee a day and you have enough money to join My Lead System Pro at the mastery level, where you get your blog for free and thousands of hours of training videos (along with lots of affiliate products you can market while you are getting your website set up).
In the beginning, it is normal to feel overwhelmed. Don't worry, take a deep breath and relax. We are here for you. Look around on our site. Let us know if you have questions.
Step 9. Create videos.
Even if you don't create a YouTube channel for your business (which is a good idea as part of Step 10 below marketing on social media), studies show that you will get more interaction with your site if there are videos on it.  Check out our blogpost on video marketing.
It's also been shown that you will get more views if you have the videos at the top of your website instead of at the bottom.
Step 10. Promote on social media.
You've picked your direct sales company, created a company (or decided to go solo), picked a name for it, snagged a website, got a picture or logo, started a blog, set up social media business accounts – WHEW!
Congratulations, that's a lot. Now it is time to market it and make money online!
Join us for our FREE weekly webinar and get training from six figure earners.  Just CLICK THE LINK BELOW and GET READY FOR SUCCESS!
FREE LIVE TRAINING THIS WED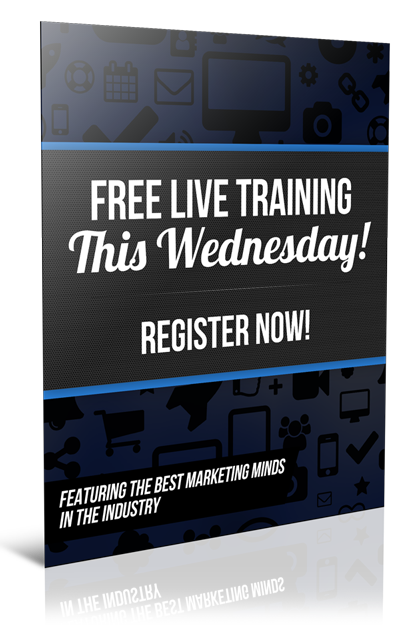 LIVE webinar with a 6-Figure Earner this Wednesday! Get strategies to help YOU get more leads & Profit in YOUR Business