Internet Marketing Strategies – Attraction Marketing
Since it first blasted onto the internet marketing scene in 2014, attraction marketing has transformed the way people approach their internet marketing strategies. Here's why you should be using it, and why it's a powerful tool for branding yourself.
If you're new to internet marketing, you've probably heard the term "attraction marketing" at some point or another. The term was coined by marketer Mike Dillard  in around 2013, and since then it has taken the industry by storm.
In fact, many would argue that these two little words actually changed the way most online marketers do business! It's a seductive concept that hundreds of thousands have fallen in love with, and looking at its core value, it's not hard to see why.
What is Attraction Marketing, and Why Should You Care?
Yes, but why should I care?
It's a simple question, but one that reveals just how powerful attraction marketing is when leveraged the right way. Every day, people are bombarded with messages and ideas, each one of them trying to persuade them to do something.
People get tired of the constant ads, calls to attention and demands on their time and tune out. What's in it for them to hear your latest excited pitch? It's only the fifth one in the last hour…next!
Whether it's trying to persuade you to sign up for an exciting new course, to download a free eBook or to watch a trailer for this summer's biggest Hollywood blockbuster, everyone is jostling for your attention.
82% of us block it out – there's too much of it!
Yet still, many marketers continue to use it. There's nothing wrong with lead magnets, courses, or trailers – but if people aren't already attracted to the idea, then you can virtually guarantee complete disinterest, leaving you out of luck and out of pocket.
How Attraction Marketing Creates Interest and Care
The core idea behind attraction marketing is to spark interest inside a lead by creating value for them. The quickest way to create value is simple: to help your potential leads to solve a problem that they have.
While many internet marketing strategies are focused on promotion, advertising, sales copy and slick deals, attraction marketing's sole focus is on delivering content that offers up genuinely useful information that people are crying out for.
People have problems every day, and many turn to find help in solving that problem online. If you can help them to solve that problem through truly valuable resources, then you will quickly find that it is easy to brand yourself as a specialist in your domain – somewhere people can come to get help with their issues.
In short, attraction marketing is about rising above the white noise and cluttered chatter of the rest of the internet with content that delivers on its promise.
The good news here is that you're not really constrained by any rules – and if you want to create powerful attraction marketing and build a strong brand at the same time, you shouldn't let the rules hold you back.
Attraction Marketing – The Basic Strategy
Say you want to carve a niche out for yourself in weight loss. This is a huge niche where millions of people are looking for a literal magic pill to help them. You're not going to get anywhere with a few lazy "How to Lose Weight" articles like every other hack out there.
But what if you zoned that niche down into something even more specific?
Not all people interested in weight loss information are created equal, and there are a lot of angles you can master here when using attraction marketing. Let's stick with a sub-niche like "lose belly weight."
Whether you choose to make videos, articles, or a combination of the two, the most important thing to do is to create content that really talks to your audience about their issue. The more content you have, the more you can brand yourself as an authority in your niche.
The key here is to create focused content that really speaks the language of your leads. How can I shift this belly fat? What exercises can I do for a more toned stomach? Does the new belly fat diet really work? Speak the language they use when searching for information and provide it: this is what your potential leads really want to know, and they are attracted to authorities, comprehensive answers.
There are endless articles and videos for you to create, and each one answers a question that millions are asking. Attraction marketing isn't about getting rich quick so much as it is getting people to come towards you organically – and that means a lot of time researching what your niche is looking for, and even more time creating great content that answers it.
Building Your Profile and Branding Yourself
Let's skip ahead a bit, and assume that you've built an incredible website that's full of powerful content that helps visitors to finally get what they want.
You may be feeling a bit disappointed that you're not getting the traction that you wanted. A little success here and there, but maybe not the level that you dreamed of
You've done all this hard work, yet you don't feel like you've made it anywhere. Meanwhile, you look at other people, and they seem to have become famous IM multi-millionaires overnight!
I want you to look these people and ask yourself one simple question: how strong is their personal brand when compared to yours? We already talked about branding above, but how much focus did you put on yourself as a brand while creating that content?
It's rare for new internet marketers to start branding themselves. The reason why is basic psychology; when you're starting out, you seek advice from experts and enjoy reading their success stories.
It's powerful and aspirational information that doesn't just help you to be a better marketer, but also to feel like one. At the center of all this is a powerful personal brand that you feel connected to. Someone you know and trust to deliver A1 information.
You're quite literally magnetically attracted to them every time you have a question in their niche!
This is the same feeling that your content should be delivering when you're leveraging attraction marketing. If you have the content but no personal branding, you're missing one magic ingredient: you.
There are no magic tricks here: present yourself as a friendly, approachable professional. Show off your expertise with great content that really delivers value. Package everything up in a good-looking, up-to-date presentation so you build trust, and always be engaging with people visiting your site and making comments.
By consistently being a genuinely helpful resource, you will build up a brand and a reputation, and this all snowballs. It's important to remember that this takes time, and attraction marketing is really about the bigger, long-term picture.
The days when anyone could get online and make a fast buck are long gone. Network marketers today are a very different breed: the most successful are always providing value, and have strong branded presences so that their audience can find them easily.
Attraction marketing isn't difficult for network marketers to achieve, but you will need a content strategy and a consistent game plan. Our free training gives you even more insight into the mindset of a successful marketer – access it today for free and start to achieve the success that you dream of and deserve (click on the picture below, it will ask you for your name and email address to put you on the access list for the next free webinar)!
FREE LIVE TRAINING THIS WED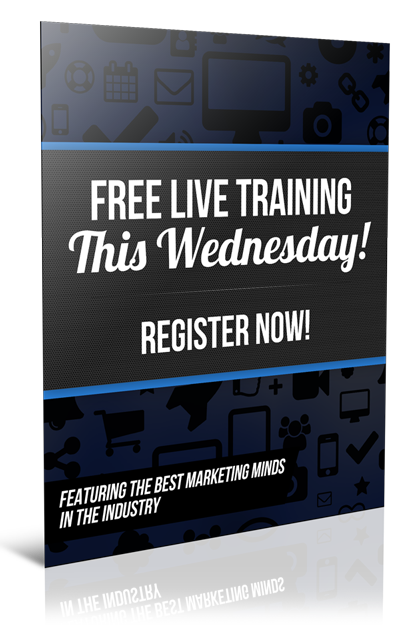 LIVE webinar with a 6-Figure Earner this Wednesday! Get strategies to help YOU get more leads & Profit in YOUR Business
Tired of the frustration when it comes to marketing your home business? If you're hurting for leads, but don't have a fortune to spend on the training to learn how to get leads…then you've got to see this…
You may not know it but there are actually weekly training webinars from six and seven figure earners where they give up their best secrets and techniques.
These are no-holds barred, PURE MEAT and NO FLUFF webinars that will have you profiting faster than you can believe. Oh yeah…and they're FREE!...
ENTER YOUR BEST EMAIL FOR FREE ACCESS: